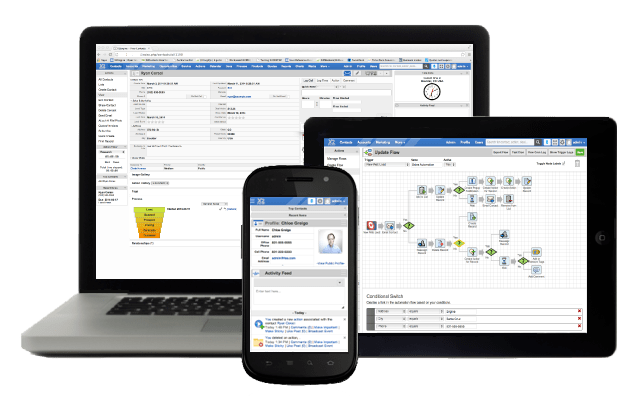 X2Engine is a fast and compact marketing, sales, and customer service application powered by an easy to use workflow engine and process management framework. Manage your clients with an endlessly customizable, powerful app, and boost your productivity like never before.
Automating tasks increases employee productivity and allows you to extend the reach of your organization without hiring and training new employees. X2Engine's marketing automation, X2Flow, is an intuitive workflow designer and engine where you can leverage all the data in X2Engine to model simple yet sophisticated flows incorporating a variety of actions and conditions. Drop down menus and drag & drop capabilities are used to establish 'triggers,' along with associated conditions which must be met before any flow is executed. Then the flow actions will be automatically performed, allowing your team to focus on the more creative aspects of marketing.
Website Activity Tracking
Tracking the behavior of visitors to your website helps you better understand who they are and what their needs are so you can directly address those needs and secure them as long-term customers. For example, you might decide to send an email or special offer to a prospect who shows interest by re-visiting specific pages of your website. Or you can set alerts using X2Flow automation to notify you whenever a high-priority contact is on your plans and pricing page. With X2Engine you can track web site visitors by simply copying and pasting a code snippet onto your site and then configuring tracking settings.
Even small and medium-sized businesses need full control over lead distribution to ensure each potential customer is managed by the individual most likely to move them through the sales funnel. At the same time it needs to be easy for the appropriate individual to modify or add new lead routing rules as needed. X2Engine gives you the flexibility to establish and modify lead routing rules quickly and easily. You can utilize standard lead routing algorithms like "Round Robin", and you can establish custom rules and conditions with simple drop-down menus. In addition, you can also create more sophisticated lead distribution rules with X2Flow.
X2Engine gives you the ability to create and send targeted and compelling email campaigns designed to resonate with prospects and customers. The WYSIWYG editor allows anyone in your organization to focus on the creative aspects of an email campaign, so they can give their attention to appealing to a particular group of prospects rather than underlying campaign logistics. Users can easily create a collection of targeted campaigns for contacts grouped by different Tags or Contact Lists and successful campaigns can then be re-used as templates for future campaigns.
With X2Engine Tags you can easily group and categorize records in any way you like, so you can effectively communicate or target email campaigns to specific contact segments. For example, you might want to tag leads from a recent #tradeshow so you can easily follow up with them, or tag customers who open a #supportCase so you can provide them with the best possible service. Simply drag and drop a Tag from the Tag Cloud widget onto the contact's record, or easily create a new tag instantly by double clicking inside the tag field.
Newsletters are an ideal method for building an ongoing relationship with prospects and customers and keeping them informed of news and developments that may be of interest to them. X2Engine gives companies the ability to easily create and distribute rich-content newsletters using a WYSIWYG editor. You can also track newsletter recipients email open behavior and pursue them accordingly. X2Engine also allows for the creation of customizable email subscription forms to fit within your site's theme.
With X2Engine you can easily capture web leads through different web forms on your web site. Easy-to-use drop-down menus and drag and drop field selection abilities allow you to create web lead forms which capture exactly the information you want from leads. You can also embed your own Cascading Styles Sheet (CSS) formatting to ensure the lead forms maintain the look and feel of your web site. Then you simply copy and paste the provided code snippet onto your website.
At the heart of X2Engine is a robust, highly-usable sale application which enables small and medium-sized organizations to efficiently sell to and manage their customers. With a full Customer Relationship Management database, you can track and follow your interactions with contacts all the way from prospect to customer and beyond. The flexibility of the X2Engine system means it can be adapted to any industry vertical. Your customized instance will seamlessly scale up with you as your business grows.
Full Customer Relationship Management
The X2Engine Contact interface is highly optimized because contact relationships are the core of any business. Though there is a great deal of information you can specify for each contact, it is organized so as to not be overwhelming. Each client's record includes details on contact info, social media, associated processes, relationships, a complete interaction history for the contact, and more. View logged calls & emails, schedule a calendar event, or assign an action related to the contact. Maintain a list of your key contacts and stay on top of the pulse of the sales flow. As with other modules in X2Engine, the contact interface is customizable so you can organize and display everything according to you and your organization's personal needs.
Deal Opportunity Tracking
Like Contacts, Opportunities are presented in an individually customizable interface which includes information about the potential deal, including sales process stage, probability of close, quoted price, associated contact or account, and more. In addition, view the complete interaction history with the opportunity and related records. Add tags to the record to filter on. Create multiple deal opportunities with a single contact/account for repeated business.
We recognize that every sales and service situation is unique and may have complex relationships with various people, companies, organizations, or otherwise. X2Engine gives you intelligent and flexible means to establish relationships between any type of entry to anything else within X2Engine. For instance, you might want to link a specific opportunity with a contractor from an unrelated company who might have some influence in the buying decision.
Sales Funnel and Process Pipeline
Most organizations have some type of sales funnel where leads move from one stage to another as they become more qualified. Since this process is often unique and may be different for distinct types of customers X2Engine has a simplified interface for creating a process pipeline. These process stages can be implemented in a number of dynamic ways, allowing users to identify segments of their contacts, accounts, and opportunities in various stages of interaction. Setting up custom processes is a snap and can adapt to a truly limitless set of industries and use cases. Integrate process stages with X2Flow for a truly personalized record interaction automation experience.
Email Correspondence Manager
Email is an incredibly efficient way to communicate with people, and X2Engine allows you to quickly and easily send rich text emails while recording these action so you and your colleagues can reference them later. From any Contact record you simply select the email icon on the right hand side of the upper menu and a rich text editor automatically appears. You can utilize templates or create your own message with any kind of formatting or attachments needed. After sending emails you can track them and see when they're opened so you can target these leads for additional followup. Share inboxes between users – perfect for support, info, or newsletter accounts.
Generating and sending sales quotes and invoices is often a necessary but time-consuming process. X2Engine simplifies the process so that in a matter of minutes any authorized individual can create and send professional-looking quotes and invoices for prospects and customers. Existing templates can be selected to ensure all customer correspondences are consistent with your corporate branding. Quotes and invoices can be viewed by others in your organization so everyone has a unified view of the customer's information. Add line items from your products module and make adjustments on the fly.
Contact Interaction History Chart
New in the latest update of X2Engine is the action history chart. This component offers a complete overview of all interactions with a contact at a glance. You can view events like calls, emails, or web activity in a simple graphic interface that demonstrates the level of activity and interactions the customer has been involved in. Of course, as with everything in X2Engine, the charts are customizable, allowing you to edit and view which types of data you would like to see information on, as well as modifying its time frame.
Notifications ensure you're immediately aware of everything of interest to you within the application. You can set up alerts so you receive real time notification when, for example, someone completes an assigned action or a high-priority contact is on your website. VoIP telephone integration ensures you'll see a contact's page if the phone number for an incoming call is already in your record database.
When you have salespeople out in the field, you need them to have access to accurate, real-time data on their customers. X2Touch is a mobile version of our full desktop client. See contact data and user lists quickly and seamlessly. Alternatively, users have the option of utilizing the full app on their mobile devices. The responsive UI means that menus and screens are well-adapted to the small screen.
The administration panel in X2Engine offers users a wide array of managerial and supervisory abilities, tools, and utilities for regulating detailed aspect of the application, and by extension, your business. This allows admins to maintain organizational standards and best practices, and to maximize productivity for all users. In addition, administrators have the flexibility to customize and extend X2Engine with the intuitive development tool, X2Studio. X2Engine's platform tool set offers fine tuned control of its interface to satisfy your company's sales, marketing, and service needs.
User Management and Access Roles
Administrators have complete control over their users' level of record access, permissions to edit or update data, and group memberships. They can create new users and assign them to different group categories based on their involvement in the organization, such as a Sales or Customer Service Rep. Administrators can create access roles and control the users' ability to view and edit records, specified right down to the individual field level. Each role has its own defined access to modules and sensitive record data. X2Engine advanced security tools give you even more control over data protection, allowing you to ban or whitelist IP addresses accessing your system.
Connect your CRM to a world of external applications and interfaces using the robust X2Engine REST-ful API. This second generation HTTP-based API can help you seamlessly integrate with your existing software and third party frameworks. Create, modify, and delete records directly through API commands. Work with associated actions or enact process stages. Connect to Zapier, Google, Twitter, and more. Make remote API calls in X2Flow automation sequences and automate your integration. And, with the option for download deployment, you have full access to the X2Engine source code so you can modify and extend the functionality of your system.
One-click deployment of your industry-specific vertical in X2Engine awaits! X2Packager allows for the production or implementation of a fully-tailored custom instance of X2Engine, specified to the needs of a given business. If you are in traditional sales space, wealth management, real estate, or agriculture, there is an X2Package deployment for you. Anyone can create and export their custom instance of X2Engine, with renamed modules and bespoke process management funnels and X2Flow automation sequences. These can be base templates for your own instanc, which you can further customize and adapt to fit your own business needs.
While X2Engine is designed to be quickly and easily configured with minimal effort required, administrators have the ability to customize and extend X2Engine in almost any way imaginable with the in-app development tool, X2Studio. New modules can be created in the X2Studio designer without any programming necessary. Drag and drop interfaces and dropdown menus enable administrators to easily generate and edit forms, customize fields, and modify user menus in a wide variety of ways. And you can specify different record detail layouts for different in-app scenarios. Add your own custom fields and start tracking data relevant to your individual business today.
X2Engine Utilities help administrators efficiently manage the application. You can import and export data for contacts, accounts, and all other records. These can be used for migrating data from another CRM system, uploading contacts met at an event like a trade show, as well as for system backup and recovery. There are also tools for system data rollbacks, record change logs and user histories, managing tags, and translating X2Engine into other languages.
System Settings and Configuration
The System Settings allow administrators to configure and customize X2Engine to meet the unique needs of their organizations. From here, administrators can configure a variety of settings such as user session timeout rate, default currency, and automatic updating. Rearrange and modify your system's modules, integrate with Google calendar and drive, or add static documents like work lists or bulletin boards to your menus. You can also configure your activity feed event stream.
X2Engine's reporting and analytics capabilities enable you to monitor and react to marketing, sales and service performance, and ultimately make "closed-loop" changes which improve performance. With simple drop-down menus users can create a variety of different reports for campaign performance, lead performance, user activity, service cases, etc., or they can create and save custom reports. The visual, easy-to-read charts allow users to easily examine data from different perspectives, and quickly spot trends, issues, and opportunities.
X2Engine keeps you connected, putting you in touch with the pulse of your organization. The rise of social media, smartphones, and mobile apps has changed our expectations when it comes to consuming information and communicating with others. In short, everything must be easy and instantaneous. This continues to be the core development principle for the user-friendly social intranet capabilities in X2Engine. Your CRM should keep you abreast of what's happening with your contacts, your deals, and the people in your organization, easing communication and increasing information flow.
With the Activity Feed you can keep an eye on everything going on in your business. You have access to all posted events in an intuitive, social network-style feed, as well as the ability to filter the information by user, event type, or any other manner. With the rich text editor you can send public or private messages attached with files and photos to individuals or groups. The Activity Feed also includes flexible charting capabilities so you can quickly spot trends, issues, and opportunities. Set specific activity feed filters to and generate an automatic email digest of those targeted events to be sent directly to your inbox on a daily, weekly, or monthly basis.
X2Engine includes a rich text editing tool and document management system where you can create generic documents, email templates, quotes, as well as upload any other type of file you might want. For each document you can choose options like whether it should be visible to other users and the permissions others are allowed for that document. Users who log in with their Google IDs can also see and access all their Google Drive files. Generate email templates for your sales, service, and marketing teams to use repeatedly, increasing their efficiency and unifying the customer experience.
X2Engine offers an efficient Task Management interface where users can create actions assigned to others as well as view and manage their own assigned actions. Users can view a friendly to-do-line interface, or easily manage dozens of actions at once within the grid view. Actions can be assigned to individual users or a whole group of users. You can also set alert notifications to remind the appropriate users of impending due dates and critical tasks. Simple drop down menu filters allows users to see Actions of a certain type or for a specific time period.
Having your entire organization centralized on X2Engine's flexible calendar module increases employee action visibility and productivity. Users can easily schedule any type of event for individuals or groups, and set status, priority, reminders, and a myriad of other options. Synchronize your X2Engine calendar with your Google calendar via Google integration. Associate events with contacts, accounts, or any other record type. Color code your events using the customizable color selector, complete with significance legend. Automate calendar event titles using X2Flow.
Email Correspondence Manager
Email is an incredibly efficient way to communicate with people, and X2Engine allows you to quickly and easily send rich text emails while recording these action so you and your colleagues can reference them later. From any Contact record you simply select the email icon on the right hand side of the upper menu and a rich text editor automatically appears. You can utilize templates or create your own message with any kind of formatting or attachments needed. After sending emails you can track them and see when they're opened so you can target these leads for additional followup. Share inboxes between users – perfect for support, info, or newsletter accounts.
You would like to have your very own X2Engine Server?
X2Engine is great but not necessarily easy to install, and that is where we can help. You won't have to worry about the Server Hardware Requirements, Operating Systems, Stacks or any of the other minor preparations, optimizations and configuration. We'll take care of everything and even customize X2Engine to fit your brand image.