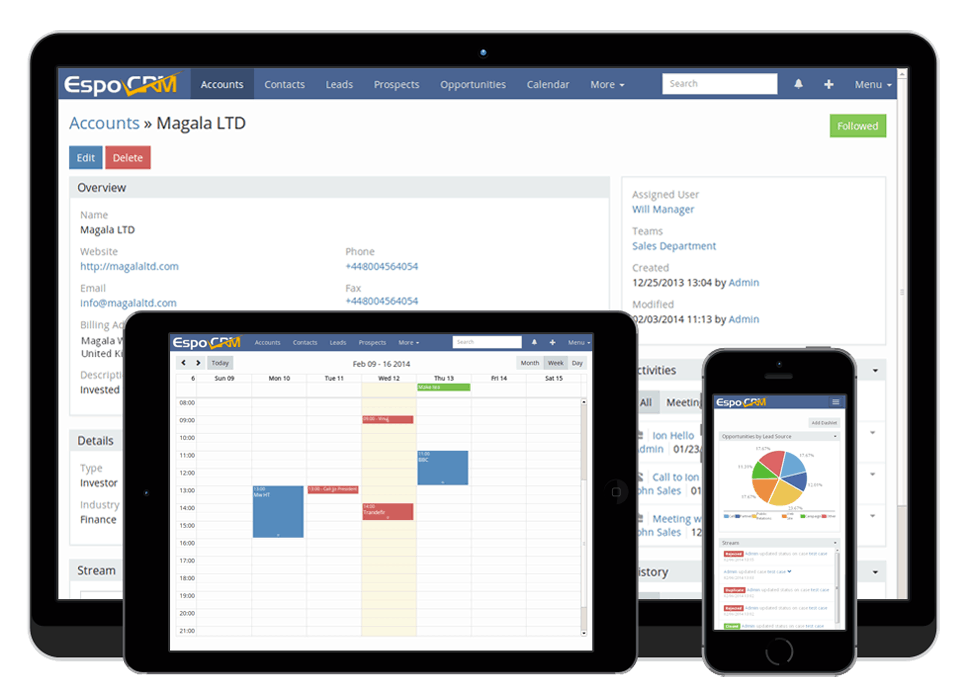 EspoCRM is a simple CRM system that helps you to manage your customer relationships. It is fully open sourced under the terms of the GPLv3, features responsive design and is lightning-fast. It can also be easily customized to meet your specific needs.
EspoCRM Features Overview
Leads – Converting Lead to Opportunity/Account/Contact.
Opportunities – Potential sales in CRM.
Accounts – Each account is a central record in B2B model.
Contacts – Contact can be related to multiple Accounts with specific roles of relationships.
Meetings
Calls
Tasks
Send Invitations to attendees.
Google Calendar Integration (available in Advanced Pack)
Inbound Emails – Archiving emails from group email box. Email-to-Case.
Email Accounts – Automatic archiving emails from personal email box.
Compose Email – Sending emails from EspoCRM.
Email Templates
Multiple email addresses per record.
Activity Stream – Feed where changes and new additions of followed records are shown.
Follow Button – User can follow particular record. Records he/she creates or those that got assigned to him/her are followed automatically.
Reports (available in Advanced Pack)
Multiple phone numbers per record. Different types of phone number (Mobile, Office, Fax, etc.)
Data Import
Users – No user limitation.
Teams
Roles – Access control.
LDAP Authentication
Currency Rates
Workflow Management (available in Advanced Pack) – Conditions, Actions.
Layout Manager – Change layouts for detail and list views.
Entity Manager – Create custom entities, fields and relationships.
You would like to have your very own EspoCRM Server?
EspoCRM is great but not necessarily easy to install, and that is where we can help. You won't have to worry about the Server Hardware Requirements, Operating Systems, Stacks or any of the other minor preparations, optimizations and configuration. We'll take care of everything and even customize EspoCRM to fit your brand image.